Here's how to back up your TikTok drafts for Android phones and iPhones:
You can back up a TikTok draft to the camera roll or gallery of your phone by using the private publishing feature within the app.
To back up the draft to the cloud or a different device, you have to first move it to your camera app and then back it up from there.
TikTok doesn't back up drafts on their servers.
If you want to learn all about how to back up your TikTok drafts for your Android phone or iPhone, then this article is for you.
Let's get started!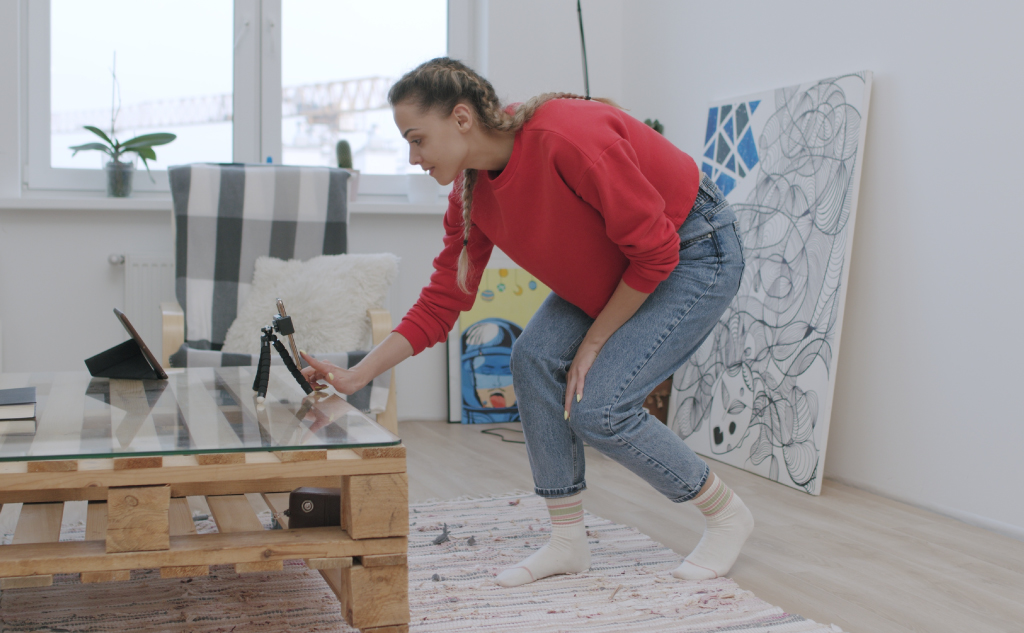 What Are TikTok Drafts?
What is a TikTok draft in the first place?
When you use TikTok to make a video, you can choose whether you want to post it right away or later.
If you want to post it later (maybe you're not done editing), then you need to save it as a draft.
The feature makes it easy to post things at your leisure and when you're fully ready to do so.
You can save and even back up drafts in order to be sure that they will be available to you whenever you are ready to watch or work on them again.
How Do You Save Your TikTok Drafts?
Before you can back up a TikTok draft, you need to have one. How do you save them?
When you make a video, before you publish it, you tap "Next."
After that, you can see an option for "drafts" in the video. If you choose that option, it will save the video in your profile.
You can view drafts by tapping on "Me" in the app.
From there, you can find the drafts thumbnail and navigate through all of your saved drafts.
How Else Can You Back Up TikTok Drafts? (3 Ways)
Those steps save a draft, but they don't back them up. Any draft saved like that will only be on your phone.
If something happens to your phone, you could lose the videos entirely, so you might want a way to back them up a little more robustly.
#1 Back Up TikTok Drafts in the TikTok App
TikTok videos automatically save on the TikTok servers when they are uploaded. Unfortunately, drafts do not get this treatment.
If you want to back them up, you first have to save the draft itself.
The app does provide the means to do this, and the steps are virtually identical whether you use Android or iOS.
The goal is to save the video to your camera roll or gallery.
When you do this, the video, music, and everything will be saved together.
To begin the process, you need to create a draft. This is done like creating a video, but you don't publish it right away. Instead, you save it as a draft.
Once you have a draft, open it up with the TikTok editor (you can do this while creating the video in the first place).
In the editor, you want to change the privacy settings. Under "Who can view this video," you want to choose the private option.
Here, you will get a new option. You can tell the app to "save to device," which is a toggle.
Toggle it on, and post the video.
Since you set the privacy so that only you can see it, the video will not be viewable to others.
Instead, this process saves a copy of the video to your phone's local storage. Check your camera roll or gallery, and the video should be there.
Now that you have a locally stored TikTok video, you can back it up like you would any other file that is on your phone.
For that, the steps depend on what kind of phone you use.
#2 Back Up TikTok Drafts on an iPhone
The easiest way to save files in your camera roll on an iPhone is to use iCloud.
In order to make that happen, you'll need to go through your settings.
Before you do, it's important that you have enough storage on your iCloud account.
If you need more storage, it can be purchased through the iTunes store.
If you don't want to go this route, you can back up the phone to a computer, which will be covered at the end of this section.
To back up your camera roll to iCloud, go into your settings.
From there, go to "iCloud," and then choose "Settings."
ON that list, you want to go to your photos, where you can toggle the option for iCloud Photos.
This automatically backs up all photos and videos on the camera roll to iCloud.
When this setting is toggled, you need to make sure the phone can connect to the internet.
As long as it can, the automated backup will be fine.
If you want to manually back your videos up to another device, you can plug your phone into a computer.
That computer will need an up-to-date copy of iTunes, which is available for free on Mac and PC computers.
Plug the phone into the computer using a USB cable. When you do, iTunes will automatically launch.
Your phone will appear on the left-hand list of things that include your library and playlists.
Click on your phone, and the primary screen will change.
Here, you will see an option to back up your phone.
When you choose that option, iTunes will walk you through the steps.
Make sure you choose to back up locally to the computer when presented with that option.
#3 Back Up TikTok Drafts on an Android Phone
If you use an Android phone, the steps are a little different.
Instead of iCloud, you're going to take advantage of Google Drive.
Again, the storage space available on your account might not be enough, but you can purchase more if you need to.
To back up a video, open the photos app.
From there, find the video that you want to upload to the cloud.
Tap on the "share" icon that is available.
You will see a few options.
You want "drive."
From there, you can save the video to Google Drive.
Note that you have to do this individually for each video.
With Android phones, you could use Dropbox as an alternative.
Actually, you can use any cloud storage service that is available on Android.
There are a number of them, and many offer free limited storage for every account.
You can also back up Android phones to a local device.
The process is similar to that of an iPhone, but there will be a few differences.
This process works for both Macs and PCs, but if you are using a Mac, you first need to install Android File Transfer.
Plug the phone into your computer with the USB cable.
On Windows, this should pop up a folder viewer.
If it doesn't, open the File Explorer.
Under "This PC," you will see every attached device, and it should include your phone.
Double click it to see all of your files on the phone.
Drag any files you want to copy from that window to any folder you choose on the computer.
This will make a new copy, and you will have a good backup.
On a Mac, open Android File Transfer.
Drag and drop any files you want to copy.
They will automatically copy into the folder you drag them to. It's that easy.