United Parcel Service (UPS) is a global leader in logistics, delivering more than 20 million packages a day to more than 220 countries and territories worldwide. As a consumer or business shipping with UPS, it's crucial to understand the claim process should your package get lost or damaged. This article will guide you through filing a UPS claim, winning a damage claim, understanding the timeline, and more.
Understanding the UPS Claims Process
There are various reasons why you might need to file a UPS claim: your package might be lost, damaged, or even delivered to the wrong address.
Understanding the process is essential in getting your claim resolved. The general timeline for a UPS claim can vary, depending on the specific details of your case.
Terms and Conditions
It's important to understand UPS's terms and conditions, as they might differ depending on the region and the specific service used. Here are some important points:
Limitations of Liability: UPS usually limits the amount of money that can be claimed for a lost or damaged package, especially if additional insurance wasn't purchased.
UPS Claim Time Limits: Claims for lost or damaged goods must be filed within a specific timeframe after delivery or the expected delivery date for lost items.
Packaging Requirements: UPS has specific requirements for packaging. If these are not met, it could affect your ability to claim compensation for damaged goods.
Prohibited Items: Some items are forbidden from transport, while others have special requirements. It's best to familiarize yourself with these before shipping anything unusual.
Right to Inspect: UPS reserves the right to open and inspect any package offered for transportation.
How to File a UPS Claim
Filing a UPS claim requires due diligence and careful preparation. There are several documents you will need, as well as steps you should follow to ensure a successful claim
Pre-Claim Considerations
Before filing your claim, you need to prepare several things:
1.Tracking Number: This is vital in identifying your shipment.
2.Proof of Purchase: This is usually the invoice or receipt showing the value of the item you shipped.
3.Photos: Photographs of the item, the packaging, and the box on all sides, along with the box certificate, can prove invaluable in the claim process.
The images should clearly demonstrate the condition of the item before shipping.Additionally, if your package was received damaged, it's crucial to inform the recipient to keep the packaging and the item, as UPS might want to inspect it.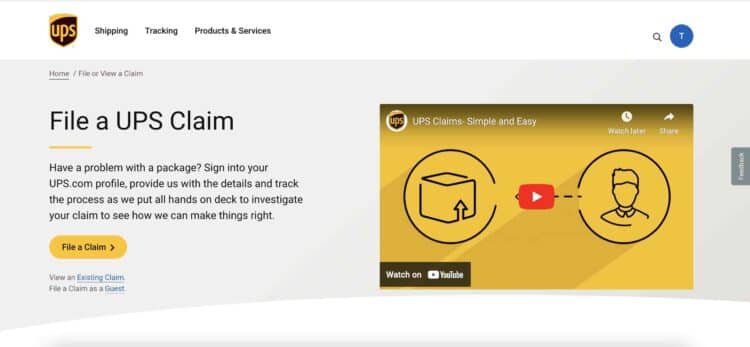 Filing a UPS Claim Online
Filing your ups claim online is often the most efficient method. Here's a step-by-step guide to doing so:
1.Visit the UPS website at www.ups.com.If you already have an account, click 'Login'. If not, you'll need to create one by clicking 'Sign up'.
2.Once you're logged in, click on 'Products & Services' at the top of the homepage.
3.From the drop-down menu, select 'File or View a Claim'. You'll then be redirected to a page where you can start the claim process.
4.Enter the tracking number of the lost or damaged package.
5.Fill out all necessary information about the package and the issue at hand.
6.Attach any supporting documents, such as proof of purchase and photographs.Submit the claim.
Important Note: With UPS claims, If you used a shipping label from a third-party website such as eBay, select 'Third Party' under "Who are you in relation to the package?" during the claim process.
This is because you used their account to purchase the label. Forgetting to do this could result in your claim being denied and ultimately delayed.
After submitting the claim, UPS will review the information provided and make a decision. You can track the status of your claim online by logging into your account.
By following these steps and being well-prepared, you'll have a much smoother experience filing your UPS claim.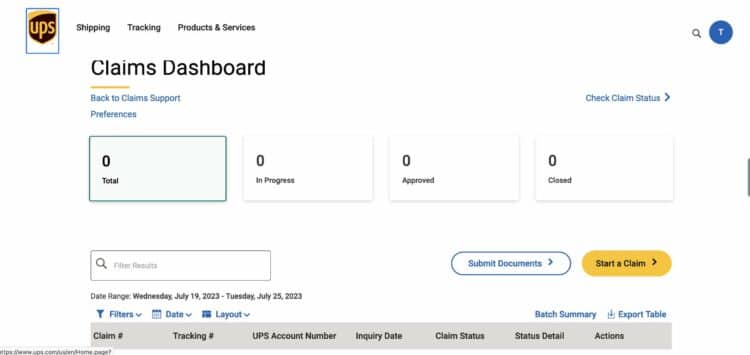 Filing Additional Documentation for a UPS Claim
Throughout the UPS claims process, UPS may request further documentation to validate your claim. This can include additional photos, receipts, or other relevant proof. In such cases, here's how you can submit more evidence to support your claim:
Log in to your UPS account. Start by visiting UPS.com and logging into your account. If you don't have one, you'll need to create an account first.
Navigate to 'File and View a Claim'. Once logged in, hover over the "Product & Services" tab on the navigation bar. A drop-down menu will appear; click on "File and View a Claim"
Access your 'Claim Dashboard'. Once on the claim page, you should see a dashboard of your current and past claims. This area is known as your 'Claim Dashboard'.
Locate your claim number and account number. Both numbers can be found in the 'Existing Claims' section of your 'Claim Dashboard'. Take note of these as you'll need them in the next step.
Select 'Submit Documents'. From the dashboard, find and select the option to 'Submit Documents'. This will open a new page where you can upload any additional evidence needed for your claim.
Enter your claim and account number. You'll be prompted to input your claim and account numbers. These help UPS link the documents you're submitting to the correct claim.
Upload the required documents. You can now upload any additional photos, receipts, or other documentation required by UPS. Be sure to follow the instructions on file formats and size restrictions.
Submit the documents. After all necessary documents have been uploaded, click 'Submit'. UPS will receive your documents and continue processing your claim.
Following these steps allows you to provide all necessary evidence for your claim, ensuring UPS can thoroughly review your case.
Remember, the key to a successful UPS claim is thorough documentation and effective communication, so always respond to any requests for additional information promptly and completely.
Packaging Requirements:
Packaging your item correctly is crucial to win a claim with UPS. Here are some pointers:
Use a new box if possible, as used boxes lose their original protective qualities.
Ensure the box is strong enough for the contents and has a box certificate.
Protect your items with at least 2 inches of cushioning
Fill all empty spaces in the carton to prevent movement of the items.
Seal your package with pressure-sensitive plastic tape that's at least 2 inches wide.
Label your package correctly.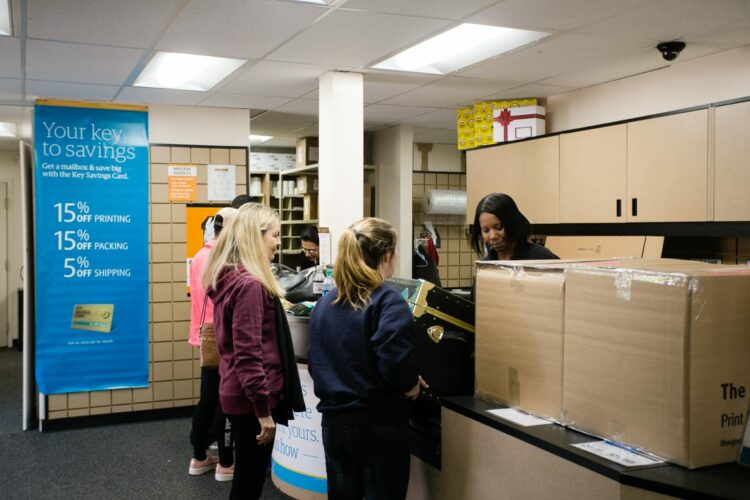 How to Win a UPS Claim
Securing a successful outcome on a UPS claim necessitates more than just submitting the claim itself.
It requires strategic action, timely reporting, proper documentation, and a deep understanding of UPS's claims process. Below are practical steps and tips to increase your chances of winning a UPS damage claim.
Document Everything
Your claim's success heavily relies on the evidence you provide. As a precaution, take many photos during the transaction process – this includes the item, its packaging, the box and box certificate, and even the drop-off at the UPS location.
These pictures serve as solid proof that the item was in good condition before shipping and help identify where the damage may have occurred.
Additionally, ensure you keep all receipts related to the shipping process, especially if you're using a UPS store for custom packaging.
Receipts serve as undeniable proof of your transaction and could be instrumental in overturning any claim denials due to alleged inadequate packaging.
Communicate with Your Buyers
It's essential to let your buyers know they must keep the packaging and immediately report any damage.
The quicker the damage is reported, the easier it will be to file the claim. Furthermore, asking your buyers to take photos of the item upon arrival provides additional evidence supporting your claim, as it demonstrates the item's condition right after transit.
Packaging and Box Requirements
When shipping valuable items, your packaging needs to meet UPS's standards. For instance, the box you use should have the appropriate strength for the item's size and weight.
A box's manufacturer's certificate, usually printed on the box's bottom flap, can provide this information.
If you're unsure about your packaging meeting UPS requirements, it's advisable to visit a UPS store and ask them if your package is properly packaged, or to be on the safe side have them package it directly.
Not only will this ensure your item is adequately protected, but it also adds a layer of protection for your claim under their "Pack & Ship Promise".
Persistence and Follow-Ups
Winning a claim with UPS can sometimes be a test of persistence. In my experience, UPS attempted to deny my claim citing inadequate packaging.
However, because I had utilized UPS's custom packaging service and had the pictures and receipts to back it up, the denial was quickly reversed.
Don't rely solely on the online claim system for updates on your claim. I found that it was often out-of-date, and even weeks after my claim had been approved, it still showed as under review.
Therefore, proactively calling UPS's customer support line at 1-888-742-5877 a few days after submitting the claim can ensure everything is moving along.
Winning a UPS damage claim often comes down to careful preparation, proper communication, meticulous documentation, and proactive follow-ups. By understanding the process and taking the necessary steps, you'll be well-positioned to navigate the claims process with UPS successfully.
Understanding the UPS Claim Timeline
Typically, a UPS claim can take a few weeks to resolve, but this can vary depending on the specifics of your claim and any potential complications. If your claim is taking longer than expected, don't hesitate to reach out to UPS claims support, their phone number is (1-877-742-5877).
Frequently Asked Questions about UPS Claims
Who can file a UPS claim? Generally, the sender is responsible for filing a claim. However, in some cases, the receiver can also file a claim, especially in cases of damaged goods.
How to file a claim with UPS? UPS prefers all claims to be filed online through their official website for efficiency and record-keeping purposes. If you have issues, you can get assistance over the phone.
USPS Says Left With Individual but No Package: What to Do?
UPS Says Check Back Tomorrow: Meaning?
Conclusion
Knowing how to file and win a UPS claim is crucial for anyone using UPS services. By following these guidelines, you'll be better equipped to navigate this process.