Here's everything about outsourcing an IT department:
Getting the right staff to handle IT needs can be hard.
But if your employees are spread too thin or lack the knowledge, experience, or skill set for handling your IT, outsourcing may be your saving grace.
So if you want to learn all about the basics of outsourcing an IT team, then you're in the right place.
Let's get started!
How Do You Outsource an IT Department?
For businesses of all sizes, finding the time and the right staff to handle your Information Technology (IT) needs can be difficult.
When hiring a whole IT department is not in your budget, or your IT team is severely lacking, what can you do?
Outsourcing the IT department may be the answer you're looking for.
No business can be great at everything.
If your employees are spread too thin or lack the knowledge, experience, or skill set for handling your IT, outsourcing may be your saving grace.
In this guide, we'll cover everything there is to know about IT outsourcing.
We'll compare outsourcing to in-house teams, give you the pros and cons, and provide a roadmap for finding the right outsourced IT, service provider.
By the end, you'll have everything you need to make an informed decision based on your IT needs.
What Is IT Outsourcing?
IT outsourcing is the business practice of sub-contracting an external service provider to handle all or part of a company's IT functions.
The amount of IT functions your business needs to outsource will vary depending on your business's size, budget, expertise, and in-house IT department.
If your business currently has no IT department, an outsourced team can take full responsibility for all IT functions.
The team would handle everything from infrastructure and service desk to data storage and software development.
The process of outsourcing an IT department can also mean hiring multiple providers that each specialize in different elements of IT.
Doing so would mean having a true expert in control of each of your IT functions.
If your business has an in-house IT department, you can outsource a portion of IT functions to provide additional support for your internal IT department.
What Is the Difference Between an Internal IT Department and an Outsourced IT Department?
Businesses of all sizes typically have intensive IT requirements.
Even small businesses should have at least one dedicated staff member who handles cybersecurity and ongoing network support.
Many companies will require a team of professionals.
Deciding whether to handle your IT needs internally or to outsource can be a difficult decision.
There are benefits and drawbacks to both options.
Taking a look at what to expect from both an internal department vs outsourcing can be helpful.
Internal IT Department
Many companies initially prefer the idea of having an internal IT department, but for many businesses, an internal team has many drawbacks.
With internal IT, you have direct control over your employees.
But finding the right staff members can be difficult, and full-time employment can be costly.
What's more, once they have things set up, your team may end up with a lot of idle time on their hands, only addressing issues when they arise.
Network security is essential, but it can still be difficult to justify the cost of hiring full-time employees.
Training, certifications, vacation pay, sick days, and possible turnovers may be unsustainable for many companies.
With an internal team, you will also be responsible for providing any software, tools, and equipment needed in your IT department.
If you have a single internal IT manager, you can be left high and dry if that person gets sick or has to leave town.
Outsourced IT
Outsourcing IT staff comes with fewer variable expenses.
There is usually a set fee depending on your IT requirements and your budget.
You'll save on software and equipment and many of the common employee expenses like training, vacation days, employment taxes, and insurance.
Shown below are the different reasons for outsourcing IT services worldwide: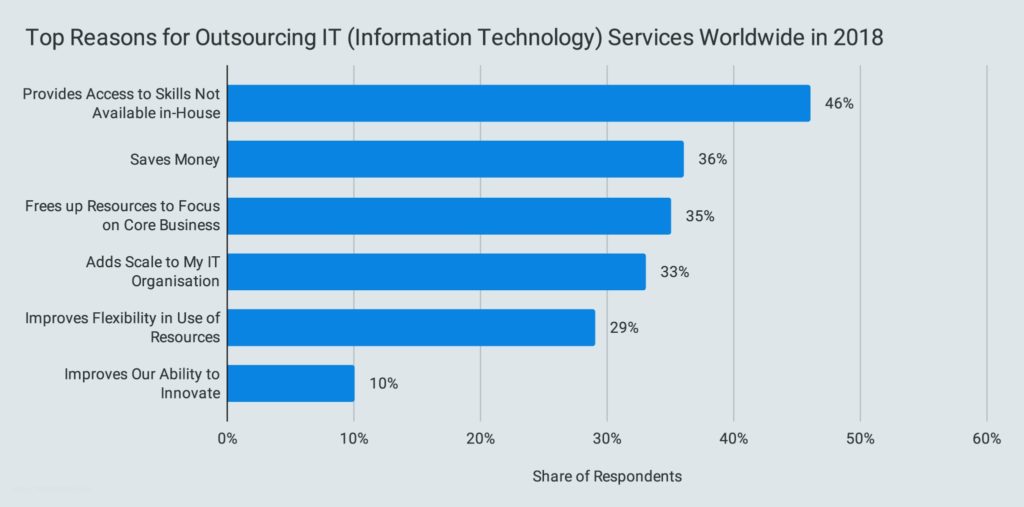 When you outsource a team, your tech-savvy employees from other departments will no longer be bogged down with IT issues, enabling everyone within your internal teams to focus on more critical tasks.
Outsourcing to a team of IT experts also gives you access to the latest technology.
IT companies stay on top of the ever-changing world of information technology.
Your IT professionals can help you scale quickly and keep you always up to date.
IT experts will provide you with everything you need, and there's no need for training or certifications.
Your IT outsourced team will be genuine experts, and they'll be able to get to work for you right away. There's no training or extensive onboarding needed.
How Does IT Outsourcing work?
IT outsourcing is not a one-size-fits-all approach.
There are several different types of IT outsourcing models to consider.
Your budget and IT needs will be the determining factors on what outsourcing model you'll use.
It will also depend on whether you're looking to supplement an internal IT team or outsource fully.
Location is also a critical determining factor.
What Are the Types of IT Outsourcing? (6 Types)
These are the types of IT outsourcing:
#1 Dedicated Team
If you choose to outsource your IT department fully, you'll be working with a dedicated external team that handles all aspects of your IT functions.
This model is typically a long-term relationship.
#2 Project-Based Outsourcing
If you need an outside group of experts to take on a particular project, it's considered project-based outsourcing.
Your external team will handle all responsibilities related to your assigned project.
#3 Extended Teams
If you have an internal IT department but are looking to collaborate or supplement your team's work, then you're looking for an extended team model.
Your outsourced team will work closely with your internal team to expand on your team's work.
#4 Body Leasing
In this case, your IT team members are employees of the service provider, but you hire them from the provider to handle your IT needs.
You get the benefits of hiring an employee without the drawbacks.
#5 Cloud Computing
An external service provider provides you with cloud-based computing services over the internet, such as servers, databases, and software.
#6 Managed Services
With managed services, you delegate your IT functions to a Managed Service Provider (MSP) who manages your networks and security.
What Are IT Outsourcing Locations? (4 Locations)
Take a look at the different outsourcing locations:
#1 Onshore/Domestic Outsourcing
Onshore or domestic outsourcing is hiring a service provider within the same country as you.
The main benefit of onshore is the ability for on-site work.
#2 Nearshore Outsourcing
With nearshore outsourcing, you hire a service provider from a country that borders your own.
Sometimes this reduces the cost, and communication and travel will still be reasonably simple if needed.
#3 Offshore Outsourcing
Offshore outsourcing is hiring a service provider from a foreign country.
The benefits can include lower costs and taxes and political stability.
However, it is important to consider time zone differences for communicating.
What Is the Difference Between Onshore, Nearshore, and Offshore?
Ever wondered what the differences between onshore, nearshore, and offshore outsourcing exactly are?
You'll learn in detail:
What onshore, nearshore, and offshore outsourcing is
What the differences are between them
Let's get started: Offshore vs. Nearshore vs. Onshore Software Development: What's the Difference?
What Services Can One Outsource?
The combinations of IT outsourcing services you can choose are endless.
Depending on the presence of an internal team and your current capabilities and expertise, the services you decide to outsource will vary.
These are just a few IT outsourcing examples:
Development of applications and software
Help desks and technical support
Web hosting and development
Telecommunications
Application management and support
Communications and networking
Data management and storage
Disaster recovery
Security for virus, spam, and online threat protection
Email
Infrastructure
Taking a good look at the needs you have and the model you'd like to use will help you identify the services you need to outsource.
The team you choose to work with can also provide guidance. We'll provide more on that later.
What Are the Pros and Cons of IT Outsourcing?
Every business needs some form of IT management.
More and more companies are choosing to outsource their IT department and for a good reason.
In 2014, the overall market size of outsourced services worldwide amounted to more than 104 billion U.S. dollars: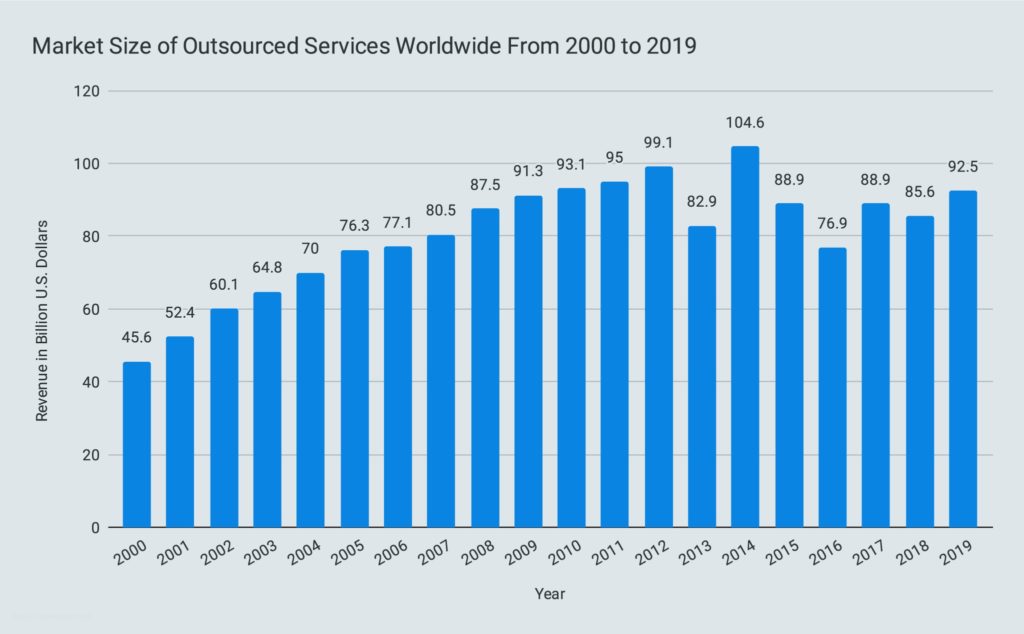 There are many benefits of outsourcing IT department.
However, just as it is with hiring an internal department, there are both advantages and disadvantages of outsourcing an IT department.
Here are some of the pros and cons of outsourcing IT department:
Pros
Full-time support
Reduced costs
Increased productivity of employees
Expansive external expertise
Teams can focus on core competencies
Access to state-of-the-art technology
Increased flexibility
Increased capabilities
A more comprehensive range of resources
More capital funds
Improved business focus
No employee-associated costs like health insurance, training, retirement plans, or employment taxes.
No need to be a jack-of-all-trades
Freed up resources
Cons
Loss of full control
Less flexibility in some cases
Potential for different time zones
Possible loss of quality
When comparing the outsourcing IT department's pros and cons, there are certainly far more advantages than disadvantages.
And the few potential cons of outsourcing can be easily avoided by ensuring you contract the right IT provider.
By creating a solid plan, you can reap all of the benefits without encountering these issues.
We'll tell you more in a bit about how to avoid some common mistakes when outsourcing your IT department.
How Do You Outsource Your IT Department? (6 Things)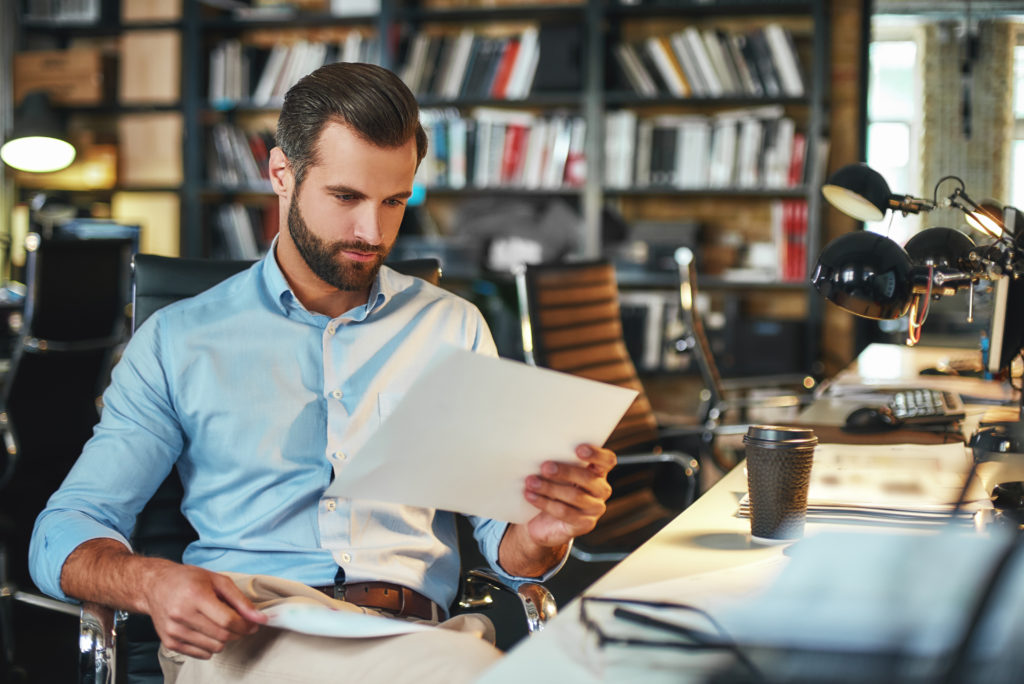 Once you've made the decision to outsource, it's a good idea to get all your ducks in a row before you hire just anyone out of the blue.
Creating a defined plan of your goals and needs will make the process easier.
It's essential to get a clear picture of where you are now, where you need to be, and what needs to happen to get there.
Doing so will allow you to get the most out of IT outsourcing.
#1 Evaluate Your Current IT
The first step should involve looking at your current IT functions to identify areas that are lacking or non-existent.
Get an idea of the areas that are most in need. Decide what areas are going to be of top priority. You can always start small and expand later.
If you have a current internal IT department, explore what's going well and what isn't within the department.
See if outsourcing certain functions would allow your team to focus on more essential tasks.
Remember, outsourcing can be used in conjunction with your in-house team.
If outsourcing a few projects will allow your internal department to run more smoothly, then everyone benefits.
#2 Define Your Goals for IT Outsourcing
Now, take an in-depth look at your expectations and what you want to accomplish by outsourcing your IT.
If you have an in-house team, include them in the conversation. Ask them where they think things could be improved.
Are you looking to cut costs?
Do you need more employees but are worried about the extra resources that will require?
Are you trying to scale the company faster or improve efficiency and quality?
Answering these questions will put you on the right path for choosing an outsourced service provider and outsourcing model.
You'll also have realistic expectations and be able to communicate your needs to a new service provider effectively.
#3 Decide on Your IT Outsourcing Model
Once you know your IT needs, decide which outsourcing model will best suit your company's needs.
Do you need just a few projects outsourced, or are you looking for a dedicated team? Will you require a lot of on-site work, or can it all be remote?
Answering these questions will help you narrow down your options to providers who offer what you're seeking.
Don't forget to consider location as well when deciding on your model.
Are you more interested in working with domestic providers, offshore providers, or something in between? There are definite advantages to all three.
#4 Identify Any Barriers and Challenges
It's essential to identify any barriers or challenges you may face when you outsource your IT department.
You can't foresee every possibility, of course, but planning and preparing make the transition much smoother.
Are you concerned about cost, not having as much control, quality, or potential security risks?
Discussing these concerns with service provider candidates may put your mind at ease.
Addressing the potential barriers and challenges is essential, so keep these things in mind when considering service providers.
Do your research to make sure you have solutions in place if any problems come up.
#5 Establish Your Performance Criteria
Ensure you have a clear idea of your baseline so that you can track your outsourced team's performance.
Outsourcing IT makes room for your company to focus on core competencies, but you still need to track the performance of your IT functions.
There should be individuals delegated internally and externally who are responsible for communicating and tracking performance.
Come up with clear criteria for assessing the productivity and performance of your new outsourced IT department.
#6 Finalize Your Plan
At this point, you've determined your needs, the model you'll use, potential challenges, and how you'll measure performance.
You can now use all you've learned to finalize your plan.
Your finalized plan will be essential when setting up a contract with your service provider.
A solid plan and contract will keep you both on the same page and prevent unprecedented problems from popping up.
Why Should You Consider Expanded IT Services?
Once you've onboarded your outsourced IT department, you should consider expanding your IT services over time.
As long as you've selected the right provider, they will have endless benefits and expertise they can offer you.
Outsourcing gives you access to all the latest technologies and practices from highly-skilled specialists.
Ask them for their advice.
What else can they do for you? Where can they improve your systems?
Outsourcing opens the door to lots of opportunities that you can take advantage of.
Don't let these opportunities go to waste.
If you have the means, find out what you can do to grow even further or make things simpler.
How Much Will Outsourcing an IT Department Cost Me?
As with any service, you get what you pay for, and that rings true for the cost of outsourcing IT department.
The pricing model of different service providers will vary, but most will charge a fixed monthly fee or an hourly fee just when needed.
Shown below are the total contract values of the IT outsourcing market worldwide: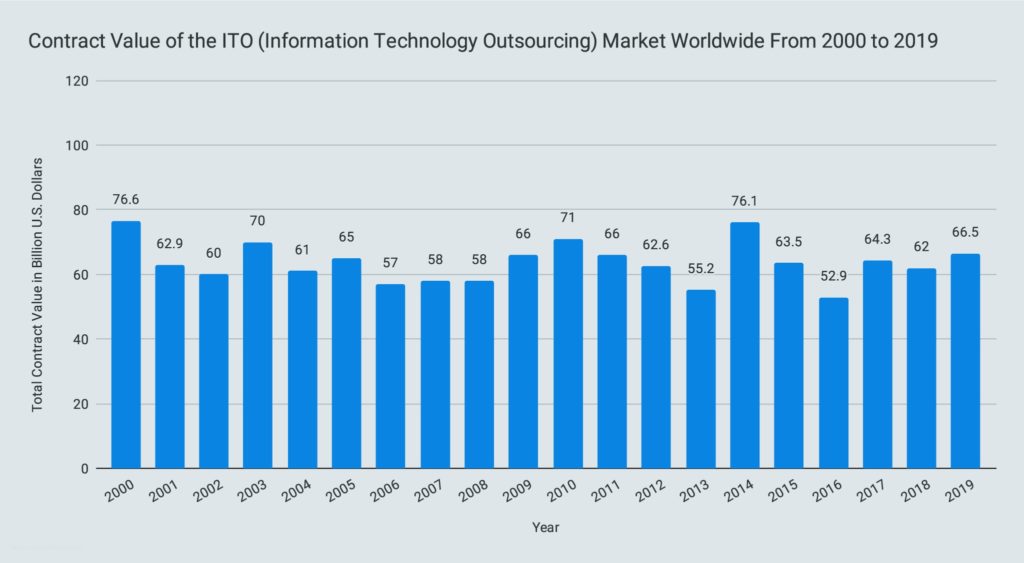 The average cost of outsourced IT varies significantly on the service package you choose and which provider.
A rough estimate would be about $80 to $150 a month per user.
For a company of 50 employees, this would mean about $48,000 – $90,000 a year.
Many companies require more than one IT manager, and when you consider that the average salary of an IT Manager is around $100,000 to $180,000 a year, you can see how outsourcing can often save you money.
How To Avoid Mistakes When Outsourcing IT? (7 Mistakes)
The most compelling reason for outsourcing your IT department is to save time and money and gain expertise; therefore, you should avoid making critical mistakes when outsourcing at all costs.
Knowing the common mistakes to avoid when outsourcing IT department is crucial to your success.
Avoid these common blunders that companies make, and you'll have smooth sailing and a seamless transition to outsourced IT.
#1 Not Having a Manager
Whether you have an in-house team or outsource your IT, there should be a manager who ensures clear communication and smooth operations.
IT providers are experts in their field, but they still need some oversight.
You really can't sign a contract and then sit back and never worry about it again.
Communication is critical to avoiding and solving problems.
IT is ever-changing as well, so plans and strategies will shift and grow and evolve.
Consistent communication, as part of a long-term relationship, will ensure the most success.
Within your company, there should be a point of contact who works with your IT team.
This person can be a bridge between the company and your service provider, ensuring that everything goes smoothly and that you address all problems quickly.
This person will also be the one to make sure that the company is regularly reviewing progress and that the business relationship is benefiting everyone.
A manager will be even more critical if you have different specialized service providers for separate IT functions.
Proper management will be crucial to meeting goals and scaling.
#2 Time Zone Issues
We now have the ability to work closely with people and other companies from all around the world.
The options for service providers are endless, and there are benefits to working with a service provider in another country.
However, before you choose the offshore outsourcing option, you must consider the time zone differences as well as other logistical issues that may pop up if you select this option.
It's tempting to hire a foreign service provider for the potential cost savings alone, but there can be potential cultural and language gaps that may be difficult to close.
And time zone differences may mean opposite working hours and slow communication.
Short projects may not be too much of an issue, but if you hope to establish a stable long-term relationship with a service provider, you'll have to consider if these roadblocks will cause too many problems to last.
#3 Outsourcing Only to Save Costs
You may not want to hear this, but if you decide to outsource purely for the cost savings, you may be sorely disappointed.
Yes, outsourcing can save you money, but it's not a guarantee.
It would be best if you based your decision to outsource on a combination of factors and benefits you expect to see.
You must take a look at the whole model, not just the money part.
Many businesses will save money over time by outsourcing instead of hiring employees, but there can be high initial costs upfront.
If your IT needs a lot of remedial work to get things up to speed, there can be additional costs.
If you go into outsourcing purely with a mind to saving money, you may also be tempted to go for the lowest-priced provider.
Doing so could turn out to be a mistake.
The key is balancing value and price.
It's fine to seek a provider who will cost less than a full-time employee but expect to pay well for quality IT services.
Focus on the benefits you'll receive from hiring a qualified expert.
#4 Not Thinking Long Term
You should consider your outsourced IT department to be an integral part of your business, just as you would with an employee.
You wouldn't hire an employee every time you need a project done and fire them when they're finished.
That would be costly, and it wouldn't set you up for success.
When you onboard anyone to your team, they get to know your processes intimately, and they become more valuable as they learn and work with you.
It's best to consider outsourcing as a long-term relationship.
That's why it's so important to choose who you work with carefully. Thinking long term and forming a strong partnership will lead to more success.
#5 Ignoring Incompatibility
Not all employees are always a good fit, and not all IT providers will automatically be a good fit either.
It's essential to get a good feel for your candidates as you consider your options, just as you would with an employee.
Cultural differences, including business culture, can create compatibility issues.
There needs to be mutual respect and understanding on both sides when working together, especially in offshore outsourcing situations.
No two companies handle business quite the same way, and it's often the same with technology as well.
Make sure that you and your provider understand how your companies operate and that they'll be able to collaborate smoothly.
It's best to try to identify any potential issues as soon as possible.
If it looks like there are incompatibility problems that won't be able to be worked through, don't go through with a contract.
#6 Not Communicating Effectively
Since an outsourced IT provider doesn't usually exist in-house, clear communication is vital to a good working relationship and success.
Onboarding a service provider makes them part of your team, and as such, they need to have a clear understanding of your business and your needs.
Many companies make the mistake of withholding information for fear of releasing intellectual property and trade secrets.
Not being candid can cause many problems later.
If service providers have to guess at anything, costly problems can arise.
You must also make sure you are available for communication for questions and problem-solving.
IT providers are highly-skilled, but they still may have questions that only you can answer.
Lack of proper communication from either side is a sign of a bad business relationship.
Both sides of the relationship should be willing and available to communicate clearly and effectively as a team.
Why Does Seeking the Lowest Price Instead of the Best Value?
One perk of outsourcing is the potential cost savings, but if a company offers a quote that's well under the market average, be wary.
You will pay for quality.
Seeking the lowest price will likely result in frustrations and more money spent in the long run.
A service provider who offers an unusually low price may lack the certifications and tools that are essential for handling your IT functions properly.
When choosing the right IT provider, making the right choice the first time is ideal, if possible.
By seeking the lowest price, you will most certainly have to go through the process again when this one doesn't work out.
It's best to look at the value of what the provider is offering, and to ask important questions:
Does the provider keep up with industry standards?
Do they hold the necessary certifications to support your needs?
Do they have a strong support team who will be available whenever you need them – day or night?
By asking these questions, you'll find the right service provider with the support you need and a price that works within your budget.